Greetings to all those interested in the field of car racing; We hope you are all well. In this article, the content production team of IR-Luxury Car Magazine is supposed to introduce you to 15 attractive and talented women drivers in car competitions. So stay tuned for the rest of the article. Before discussing the introduction of these women, we will give you a brief introduction. Unfortunately, most people around the world think that car racing is just a male sport Despite the dominance and skill of men in car racing, there have always been women who prove that girls can be as fast and skilled as men. The most popular female race driver in the world is Danica Patrick, who announced her retirement in early 2018. She is the first woman to win the Indy Car Racing Series. In addition, he had many successes as an advertising model. Of course, there are women who are more talented and attractive than Ms. Patrick on our list, but this lady driver was more popular among car racing enthusiasts. Now it is time to introduce these women.
Wolf is a British driver who has had an exciting race against rivals in Turing, especially the DTM Championship. He started out in motorcycling and gradually moved on to motorsports, where he began his career in karting championships and then in the Renault Formula One and Formula Three series. From 2006 to 2012, Wolff competed in the DTM Championship behind the wheel of a Mercedes-Benz. In 2012, Williams moved to Formula One as a test driver. Susie with her husband Tutu Wolff, The CEO of Mercedes AMG Formula One got married and the couple had a child in 2017. This means that Ms. Suzy is currently on maternity leave and raising her child, but car racing fans are confident that she will soon be back behind the wheel of a race car.
Dano is one of the most attractive women in motorsport, she worked as a model in Venezuela before driving. She started her career when she was invited to a driving clinic in Venezuela; Until then, Dano had never paid attention to motorsport. It was then that he realized he was good at racing and soon began a new life as a driver. Dano has competed in many North American races, including the Indy Car Series, the American Le Mans Series and the Rolex Sports Car Series. He even competed twice in the famous 24 Hours of Le Mans, in 2001 and in 2002, when he finished 28th.
Munter is an American racing driver and environmental activist who has competed in several races since 2010. His driving career is in Indy Lights and he started as an Indy Car racer and later moved on to the Indy Pro series. In addition to his racing career and several notable performances, Munter received his degree in biology from the University of California and is active in a variety of environmental projects. Interestingly, Leilani is one of the few vegetarian race drivers in the automotive world.
Di Silvestro is a young Swiss driver who has previously been praised by his teammates for competing in the Formula E championship. Di Silvestro has also competed in Indy and several other races under the pseudonyms "Mrs. Switzerland" and "Iron Maiden". During 2016 and 2017, Simona competed in the Australian Super V8 Championship and competed with a Nissan Maxima V8. Simona was ranked 24th in the overall standings for the 2017 season.
Germany is another Swiss driver who was born into a famous family in the field of motoring. His father is a former karting champion and his brother is a rally driver. Germany started by winning local youth karting competitions and then moved on to more serious competitions. In 2010, he started his first race at the prestigious FIA GT1 World Championships and drove GT sports cars on the best tracks in the world. Interestingly, in 2012, she competed in the Super GT Series in Japan as the first female driver in that championship.
Ashley is the daughter of the famous drag driver, John Force, it is natural for racing to flow in her blood. Ashley started her career in car racing in 2007. Unfortunately, her career ended in 2010. Because Ashley started a family with Daniel Hood, her father's racing team employee, and gradually began to live. During his years at the top of the professional driving world, Ashley Force Hood won many races. He drove a Mustang for John Force and even raced with his father in a few races.
About 50 years ago, the World Rally Championship was a men's sport, so when Moton started racing in the mid-1970s, his performance was as impressive as his handsome appearance. Moton was a fast and capable driver who outperformed many male competitors. Let go and be admired by his fans. Moton's list of achievements in rally sports is impressive. She is the only female rally driver to have won a WRC. Moton is also the only woman to race in the fast-paced, insane Group B cars. Moton withdrew from professional competition when he was barred from competing in Group B in 1986. In 1988, however, he returned to the race scene as one of the founders of the popular Race of Champions event. These races have the best drivers around the world competing in various motorsports disciplines. He also serves as an FIA executive and a respected member of the former Speedway Drivers Association.
Canadian driver and model! He never intended to enter the driving profession. However, since childhood, racing has been a part of his life. Her brother and father were professional motorcyclists, and she later competed in karting as a little girl, winning several races. After karting, Default started racing in car racing such as the Formula BMW and Skip Barber Race Series. However, his big turning point was in 2010 when he competed in the Canadian NASCAR Series. She was also the first female driver to compete in the Dodge race. In addition to driving the race, Marvio is an active clothing model and television personality.
The Macintosh is one of the rising stars of professional car racing as well as a talented young lady driver. He has been racing since the age of five, and has also won more than 100 junior and amateur titles. His first season in professional competitions was in 2014. Macintosh is currently racing in the ARCA Racing series. In addition to racing, he works as a media personality and spokesperson for various motorsport-related brands and companies.
Schmitz is a German racing driver and a member of the Porsche and BMW racing teams. He is also a TV personality and one of the most attractive characters in the world of car racing. Schmidz grew up near the famous Nurburgring, so he has been familiar with cars and racing since he was a child, so Schmitz grew in interest in racing and finally competed in amateur and semi-professional racing at the Nurburgring in the 1990s. . He even won a few events in the VLN series. Sabin became very famous as a driver in the taxi ring program, with a BMW M5 taxi. In this program, he drove the car in a fun way in a way that scared the passengers. In the early 2000s, Schmidt appeared on the popular television program Top Gear, which was praised by television audiences as well as Jeremy Clarkson for his excellent driving skills and performance.
Born into a driving family, Jorda has been influenced by motorsports since childhood. His father, Jose Miguel Jorda, was the race driver who encouraged him to do the sport. Like other young drivers, Jorda started karting before going to the Spanish Formula 3 Championship, where he was quite successful. Soon, he went to the European Formula 3 series and participated in the Le Mans and Indy series of cars. In 2015 and 2016, Jorda earned a place in the Lotus Formula One team as a growing driver with excellent visibility. However, many of his colleagues questioned this position. They saw Jorda more as a marketing ploy than a real driver for the team. They also criticized him for attracting media attention because of his appearance and not his driving. However, fans of the race are confident that she will achieve great success in the future as one of the best young female drivers.
As a television personality and Singaporean fitness instructor, Jedrak was not interested in driving. Jadrak became interested in motoring until he was a member of the journalism team reporting on the Formula One event. However, he had to start from the bottom, so he raced karting first and proved to be very successful. After that, he moved to the Malaysian Super Series Touring Car Championship. He was behind the wheel of a Honda during Formula One support races. At the end of the season, Jedrak became seventh among 36 drivers. It was a wonderful achievement for a novice driver. He believes in fitness, so he trains in race simulators as well as in the gym.
Attractive Portuguese driver Antas; He is one of the emerging stars of Offroad competitions. Madalena, like the rest of the women, was to start racing at a young age. But unlike many other female drivers, she chose to take part in off-road racing, which was mostly attended by men. The high level of off-road racing is very difficult for the driver. They have to drive for hours in the desert, in the hot cabin of an off-road vehicle. However, Antas seems to enjoy every second of the race. She was one of the few female participants in the grueling Paris-Dakar Bodo Rally with a Nissan 4.4 Patrol.
For those who do not know who Tushkanova is, know that this Ukrainian rally driver started the rally professionally in Russia. He then raced to become one of the world's best rally drivers in Finland. He is a capable and dedicated rally driver with a very good future in the sport. Insa is also a successful model and media personality.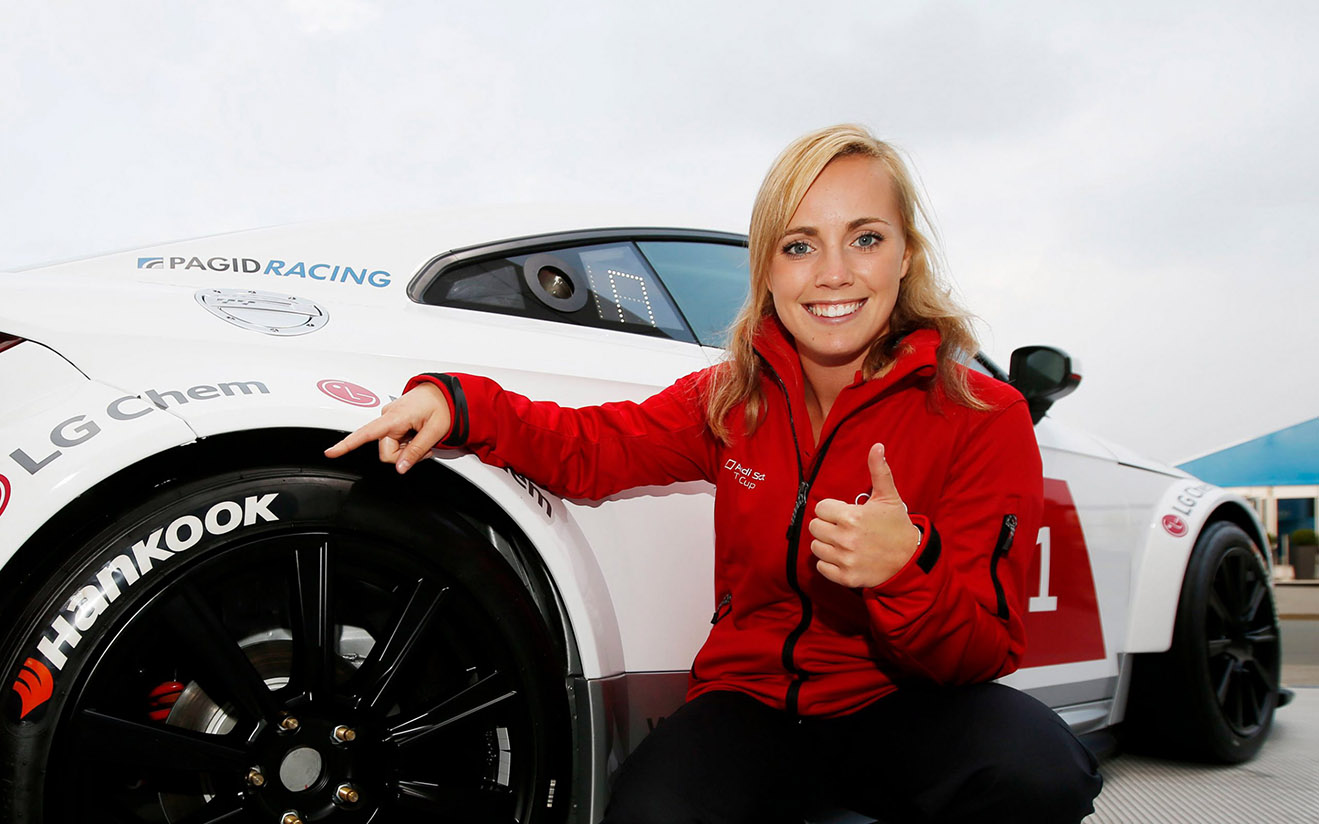 15 - Mikaela Ahlin-Kottulinsky
Kotlinsky is a young driver from Sweden and one of the emerging stars in European car racing. As the grandson of a Swedish rally driver, he has completely inherited the legacy of racing in his family. After his first success in juvenile karting competitions and various competitions, he turned to touring cars (tours). In the Audi TT semi-professional championship series, Michela also competed fiercely with the rest of the participants as a semi-professional champion. Ahelin Kotolinsky has repeatedly won the podium.
We have reached the end of this article. These are 15 of the most beautiful and talented car racing drivers who have ever won on the track.
Taken and translated from Motor-junkie.com